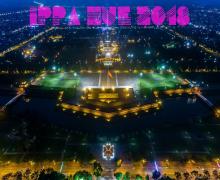 2nd Call for Abstracts
We politely ask you to join in our session proposal for upcoming 2018 IPPA congress. We already had our own paleopathology session in previous 2014 IPPA meeting ("Recent Progress in Paleopathology of Asia" session). This session is the update of the studies after then on. Please send your abstract to us if you hope to join in our session.
The Indopacipic Prehistory Association Congress will open on Sunday 23 September and sessions will run on Monday 24, Tuesday 25, Thursday 27 and Friday 28 September, 2018. The venue is Hue, the famous medieval capital city of Vietnam.
Organizers: Drs. Hisashi Fujita (Niigata College of Nursing, Japan) and Dong Hoon Shin (Seoul National University, South Korea)
Session Title: Recent Progress in Paleopathology of Asia
Abstract: Recently, paleopathology has been established in Asia as the indispensable research for revealing ancient people's health and disease status by studies on the tissues remnant in archaeologically obtained biological specimens. By various scientific techniques, the secular changes in the disease patterns of Asian populations in history could be successfully traced. The obtained information thereby contributes to more comprehensive understanding of the reciprocal interaction between human beings and diseases throughout history. In this session, we will try to discuss the recent progress in paleopathological researches in Asian countries. The authors will discuss about the ancient people's life, illness and death, from the perspectives of archaeology, anthropology, osteology, parasitology, radiology, and molecular biology etc.
Studies that would be presented in our session to date:
*The reconstruction of health status from the excavated skulls in Abydos site, Ancient Egypt
*Ancient Trichuris trichiura DNA sequences of 18s rRNA and Internal transtcribed spacer 2 genes from Joseon Mummy feces of Korea
*Changes in dental health of ancient Western Siberian people by historical periods
*Preservation status of Zeleny-Yar mummies: the possibility of paleopathological research subject
*Dr. Veena Mushrif: Human skeletal remains from North East India
(More presentations will be added after this session would be accepted by IPPA committee)
------------------------------------------------------------------
1st Call for Abstracts
Dear Colleagues,
2018 IPPA Congress will be held on Sunday 23 September to Friday 28 September, 2018. The venue is Hue, the capital of Nguyen dynasty in Vietnamese history.
Like the IPPA congress in 2014, we hope to organize our own "paleopathology" session in the upcoming congress.
According to the organizing committee,
"program space will be limited. Scheduling priority will be given to sessions rather than individual papers. There will be four 90-minute session blocks each day, with parallel sessions running in each time-block as required. A standard single session will be 90 minutes, ending in a coffee or lunch break. Sessions may take up more than one 90 block as required, but only in whole blocks."- So, we believe that we can run one 90-minute session block for our subject, paleopathology.
To submit our application of the session before too late, we hope to know who is willing to join in this session as presenters.
If you are interested in attending this session, please send
your name and affiliation
to the following persons, along with the
presentation title
until
July 31, 2017
.
Dong Hoon Shin (cuteminjae@gmail.com)
Hisashi Fujita (rxh05535@nifty.com)
Warm regards,
Dong Hoon and Hisashi